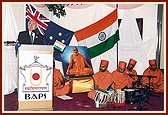 On Sunday 16 January 2005, BAPS Swaminarayan Mandir in Sydney had organised prayers for the tsunami victims. Apart from more than 800 people, the prayer service was attended by many distinguished personalities of Australia. The Prime Minister of Australia Hon. John Howard, the Consul General of India Mr. M. Ganapathi, the Deputy State Director of New South Wales Immigration department Mr. Glenn Smith, and many leaders from the Indian and Australian community were amongst them.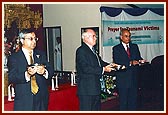 The Prime Minister joined along with other dignitaries and sadhus in lighting candles representing the countries affected directly by the tsunami.
The relief work of BAPS volunteers for tsunami victims was highlighted by a short presentation.
Impressed by the presentation, the Prime Minister in his speech congratulated the community in their contribution and timely aid to the worst affected areas. He said the barriers of religion, race,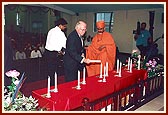 nationality and political beliefs have dissolved.
Mr. Howard said there were strong bonds between Australia and India – history, sports and language.
He praised the organisational capabilities of BAPS which was evident not only by the relief activities, but also by the efficient management of the prayer service.