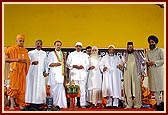 On 26 December, BAPS centres in Chennai and across the globe arranged mass prayers for the departed souls. Relatives and friends of the deceased had also attended the gathering to offer their respects and prayers. Many found peace after the ceremony.




Multi-national Prayer Meeting, London
On 2 January, the High Commissioners and representatives of Bangladesh, India, Indonesia, Malaysia, Maldives, Myanmar, Sri Lanka and Thailand all met at Shri Swaminarayan Mandir, Neasden (London), to pray and appeal for help. More than 3,000 people joined in solidarity to offer their sympathies and support.
Prayer Assemblies in USA
On 2 January, prayer assemblies were held at Houston, Chicago, New Jersey, Washington and other BAPS centres in the USA. Representatives of federal and state governments and all religious faiths attended to offer their prayers and support.
Multi-religious Prayer Gathering, Amdavad
On 3 January, religious leaders of Hinduism, Islam, Christianity, Zoroastrianism, Parsee and others gathered on one stage to offer prayers sung by BAPS sadhus in Amdavad. The solemn event was attended by 4,000 people.
9-day Prayer Assembly in Chennai
During the Pongal festival, from 13 to 21 January, the BAPS centre in Chennai had organised a special 9-day prayer assembly. The event was attended by members from all communities.
Pray-A-Thon in Toronto
On 9 January, Premier of Ontario, Dalton McGuinty visited the BAPS mandir in Toronto to join in the special Pray-a-Thon. Other government officials and representatives of all religious faiths also attended.
Prime Minister of Australia offers prayers, Sydney
On 16 January, the Prime Minister of Australia, The Rt. Hon. John Howard, the Consul General of India to Australia, M. Ganapathi, and many leaders from the Indian and Australian communities gathered at the BAPS centre in Sydney to offer prayers for the tsunami victims.