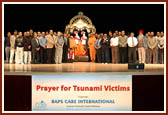 On Sunday 2 January BAPS Centres across North America held Prayer Assemblies in support and memory of the victims of the catastrophic Tsunami in South Asia.
The prayers began with chanting of the Swaminarayan dhun which was followed by special Vedic hymns that were recited to offer support to those who are suffering from this devastating calamity.
The prayer assemblies were organised as a medium to offer prayers and support to all those affected, regardless of religion and nationality.
In Houston, the Prayer Assembly was attended by 22 community organisations as well as hundreds of well-wishers, including Dr. Prem Chand Shridhar (Priest from the Greater Houston Arya Samaj), Mr. Skand R. Tayal (Consul General of India), Mr. Eddie Poerwana (Deputy Consul General of Indonesia), and Ms. Yael Ravia-Zadok (Consul General of Israel) amongst many other distinguished guests. Mr. Barkley Peschel, District Director, read a message from Congressman Tom DeLay, Majority Leader of the House.
At the Prayer Assembly held in Chicago, amongst the many attendees were the representatives of over 20 community organisations as well as noted speakers such as Mr. Andy David, Deputy Consul General of Israel.
In New York, more than 30 prominent civic organisations attended. They were addressed by several speakers, including Mr. Ashok Tomar (Deputy Consul General of India), Congressman Anthony Weiner, and Assemblyman Jimmy Meng.
Similarly, at BAPS centres across North America there was an outpouring of support from community leaders and civic organisations. In Washington DC, Mr. Elisha Pulivarti, a special representative of the Governor's Office, read a letter of condolence and support for the victims of the tsunami disaster, on behalf of Maryland Governor Robert Erhlich.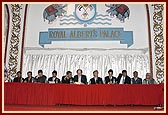 In Ontario, Premier Dalton McGuinty paid a visit to the BAPS Centre in Toronto on 9 January 2005 to participate in a Prayer Assembly organised by BAPS Canada for the victims and survivors of the South Asian Tsunami.
A prayer for the victims from His Divine Holiness Pramukh Swami Maharaj and an appeal for support was read to the audience to seek their assistance in providing relief material and much needed food and water supplies to the affected areas. This large humanitarian mission will be carried out by BAPS Care International, a non religious relief organisation with a long track record in helping victims of disasters.
At the end of the programme the Shanti Path – Peace Prayer – was recited by priests at all of the BAPS centres to seek peace for the souls of those lost in the tsunami disaster.