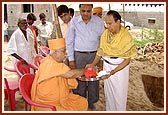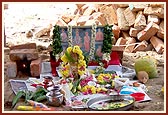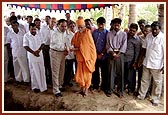 On Saturday 16 July 2005, BAPS Care International and BAPS Swaminarayan Sanstha, India, conducted the foundation-stone laying ceremony of 250 homes - 160 in Pattipulamkuppam and 90 in Mahabalipuram in the district of Kancheepuram amidst Vedic chantings through the hands of Pujya Doctor Swami and Collector of Kancheepuram District Shri R. Venkatesan.
After placing the bricks in the foundation pit, an assembly was held by the sea shore of Pattipulamkuppam. The Collector Shri Venkatesan, Shri Dhanpal, District Chairman of Kancheepuram District; Shri. Viswanathan, President of Town Panchayat, Mahabalipuram and Shri. Sekar, vice-President of Town Panchayat, Mahabalipuram; were honoured with garlands and shawls. The Colluctor, in his address, said, "I have been experiencing the services of various organizations for the last seven months. I have seen the wonderful work of BAPS and its volunteers have helped us a lot. I would like to thank them on behalf of my people. We have gathered here for the foundation-stone laying ceremony of 250 houses to be built by BAPS. I congratulate and thank the BAPS for the programme and request to do the maximum for our people. We, the government officials, are here to help the people and the BAPS."
Finally, on behalf of HDH Pramukh Swami Maharaj the inspirer of BAPS Tsunami rehabilitation project, Pujya Doctor Swami said, "To transcend the miseries and challenges of life we all need the refuge of God and His holy Sadhu. Offer daily prayers to God before you begin your day. Also, bow down to your parents and respect them. I pray for unity and harmony to prevail in your village so that you can help each other in times of difficulty and live happily."
In conclusion, the village seniors were honoured with shawls and prasad. The assembly was attended by 400 local Tamils of the village of Pattipulamkuppam and Mahabalipuram.
On Friday, 1 July 2005, the BAPS donated 250 milch cows to 250 Tsunami-affected families belonging to the villages of Sethupathiyoor, vattumadai, Koittunar Vialai and Saral Vialai in the Kanyakumari district. In addition, 100 rope-making machines with raw materials, 5 slipper-making units and rubber sheets for 100 families were also donated. In all, the event provided means of livelihood for 450 families.