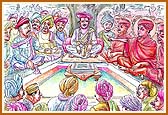 Bhagatji Maharaj had to go to Gadhada on the occasion of the idol-installation ceremony in Laxmivadi where the mortal frame of Shriji Maharaj had been cremated. Yagnapurushdasji also left for Gadhada along with Rangacharya. First they went to Bhavnagar, where Yagnapurushdasji defeated a protagonist of the Shankara School in a scriptural debate. Then they reached Gadhada. Yagnapurushdasji introduced Bhagatji Maharaj to Rangacharya, who was greatly pleased to have the darshan of Bhagatji. Rangacharya was convinced that he was a saint who had attained Brahmasthiti as described by Yagnapurushdasji. In this congregation, there had also come from Junagadh many great saints possessing Gunatit jnana (knowledge of Akshar). Yagnapurushdasji brought the devotees of Gujarat in contact with these saints and confirmed their faith in Akshar-Purushottam, and their conviction in the Brahmic state of Bhagatji Maharaj.
After the idol-installation ceremony a large meeting was held in the evening. Many scholars had come to participate in this meeting. Among them one was a great Vedantin scholar, Shri Mahidhar Shastri of Rajkot. He challenged the pundits of the fellowship for a scriptural debate. But who would venture to face such a distinguished scholar? All looked at one another. Yagnapurushdasji then thought: "It would be a slur on the fair name of Lord Swaminarayan if this challenge was not accepted." Then he boldly got up. Mahidhar Shastri gave an amused smile on seeing so young a sadhu arriving for the debate, but his guru Rangacharya said1: "Only virtues of the virtuous are respected, not his sex not his age."
Mahidhar Shastri then began to ask questions. Yagnapurushdasji would give answers, refute the arguments of Mahidhar Shastri and establish his principles. Ultimately Mahidhar Shastri's arguments were exhausted, he accepted defeat and bowed to Yagnapurushdasji.
Acharya Maharaj, Bhagatji Maharaj, Rangacharyaji and all the rest in the assembly gaped at Yagnapurushdasji in amazement. Bhagatji Maharaj was also looking at him affectionately all the time. The next day when Yagnapurushdasji went to have Bhagatji's darshan, the latter, on seeing him coming got up and welcomed him with the words : "Welcome, sadhuji, and fondly embracing him said, "May you happily worship the Lord." After the congregation was over Bhagatji went back to Mahuva and Yagnapurushdasji returned to Baroda.
Even while continuing his studies at the temple in Baroda, Yagnapurushdasji gave discourses to the new devotees and college students on the doctrine of Akshar-Purushottam. One afternoon Jethabhai of Peej called on him. After having darshan of the deities, they sat down in the pradakshina (periphery) of the temple for philosophical discussions. Yagnapurushdasji was deeply engrossed in talking, and so was Jethabhai in listening, such that neither knew that night had enwrapped them. Only at about four O'clock the next morning did they realise that they had sat there continuously for twelve hours. As a result of this twelve hour discussion Jethabhai's faith in the doctrine of Akshar-Purushottam was firmly established. He also realised the pre-eminence of Bhagatji Maharaj. Later on he became a sadhu and was known in the fellowship by the affectionate name of Nirgundas Swami.