Blessings from Jaga Bhakta: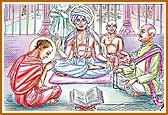 Many were green with envy when they saw great saints and haribhaktas sitting respectfully in front of Jaga Bhakta at his seat in Junagadh for hearing his discourses. Jeebhai Kothari was influenced by the words of some of these jealous people. He forbade Jaga Bhakta to give discourses in the meeting hall or at his seat. To Jaga Bhakta, however, delivery of discourses, day and night, was the very breath of life. He was, therefore deeply pained at this injunction.
When Yagnapurushdasji learnt about this at Rajkot, he at once went to Junagadh. After Thakorji's darshan, while he was going to the room of Jaga Bhakta to see him, some people told him: "There is a ban against going there. It is an injunction of the Kothari."
But Yagnapurushdasji boldly replied, "The ban is not for me." With these words he went to the room of Jaga Bhakta, made obeisance to him by prostrating at his feet and sat down beside him.
Jaga Bhakta was surprised to see Yagnapurushdasji. "How did you manage to come here?" he asked, and added: "No one is allowed to come here to see me." Yagnapurushdasji replied: "The ban shall be lifted from this day. Do not be dismayed, I shall meet the Kothari, persuade him to lift the ban and permit you to resume the discourses." The news of Yagnapurushdasji's visit to Jaga Bhakta spread throughout the temple.
That night Yagnapurushdasji met Jeebhai Kothari in a solitary place and narrated to him the majestic pre-eminence of Jaga Bhakta. After hearing this the Kothari realised his mistake and felt deep remorse in his heart.
He went to the room of Jaga Bhakta early next morning, prostrated at his feet and said: "Henceforth everybody shall have a right to come to your room, and I beg that you also sit in the assembly and resume your discourses. Yagnapurushdasji has dispelled my ignorance and saved me from dishonour." With these humble words he tendered his apology. Jaga Bhakta being pleased, bestowed his blessings on him.
Jeebhai then left the room. Jaga Bhakta became impatient to see Yagnapurushdasji who with his infinite virtues and skill had been instrumental in the lifting of the injunction. After a short while, Yagnapurushdasji arrived and proceeded to make obeisance to him by prostrating at his feet, but Jaga Bhakta immediately got up, held him in his embrace and exclaimed with joy: "You have come, at last, guru! I have been awaiting you for long !" For quite sometime, he did not release him from his embrace. Then he related to him Kothari's visit and all that had happened.
Jaga Bhakta was extremely pleased with Yagnapurushdasji and in the exuberance of that joy he said: "You have today reopened the gate of salvation for aspirants which was closed for some time. Henceforth you shall have the credit for all the punya (merits) I attain by my good deeds and the consequent kalyan (emancipation) of the jivas (souls)." But Yagnapurushdasji simply said with folded hands: "Kindly be pleased with me and keep your benign eyes on me."
The impression this incident created in the satsang was that: "It is difficult to find a parallel to Yagnapurushdasji in the satsang." Yagnapurushdasji then returned to Rajkot from Junagadh. But a letter soon arrived from the Kothari of Junagadh informing him that discourses on Satsangijivan had been arranged in Junagadh and that he should come to Junagadh as a reciter for this function. So Yagnapurushdasji again went to Junagadh.