Confluence of the Ganges and the Ocean: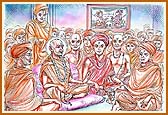 Swamishri went to Rajkot from Sarangpur at the invitation of Krishnaji Ada. Ada had invited him to Rajkot to fulfil the wish of Jheena Bhakta, a saint, from the group of Krishnacharandas Swami. Krishnacharandas Swami was a favourite disciple of Gunatitanand Swami. The sadhus of his group had all the attributes of saintliness, but Jheena Bhakta stood distinct amongst them. He had heard a lot from Krishnaji Ada and others about the eminence of Swamishri and about his work. He was naturally anxious to have the darshan of such a supreme saint.
His yearning to have Swamishri's darshan was fulfilled when the latter arrived in Rajkot. At the very first sight he was drawn to Swamishri. He was instinctly attached to him. His darshan gave him immense satisfaction. From Rajkot Swamishri returned to Sarangpur. The local devotees requested him to build a temple there. In response to their request, kind-hearted Swamishri purchased the houses belonging to Peetha Khachar. This news shocked Bheemjibhai Kothari. But he consoled himself with the thought that, "No temple can be built by mere purchase of the houses." Now Swamishri began touring the villages around Sarangpur and in Jhalawad to spread the gospel of Akshar-Purushottam.
When Shri Jhaverbhai, the Diwan of Limbdi, came to know about the purchase of the houses by Swamishri, he said to him: "Swamiji! If you want to build a temple in Sarangpur, I shall request the Thakor (ruler) and get you the land." Swamishri humbly replied: "We don't have money. The work at Bochasan, too, is incomplete. However, if you get us some land, we shall be glad to construct a small temple thereon."
The Diwan was convinced that Swamishri's purpose could not be served by a grant of a small piece of land. So he said: "Swamiji, please ask for more land, and I shall get it for you." Swamiji then asked for twenty-four acres of land which the Diwan procured from the ruler of Limbdi and the rest was purchased from Shermiya of Dholka,
The land was thus secured, but to construct a temple on it was not easy. There was no money, nor did they have enough men, and there was staunch opposition all around. "These are rebels. Do not give them food to eat. No support should be given to them, as these sadhus have revolted against the Acharya and the temple." Such was the vehement propaganda which the opponents were making from village to village. They beguiled the ignorant and credulous people. Some of them did not approach Swamishri out of fear. Even so, there were some brave devotees who stood by Swamishri's side against all odds, even at the cost of their lives.
Swamishri's saints were equally tough. They would not be dismayed, whatever the hardships they might be confronted with. They had smiles on their faces all the time and lived cheerfully. In the absence of utensils they cooked khichdi (hotchpotch) in kerosene tins. At times they could not even get sour butter-milk. They had to walk a distance of five to six miles to get something in alms. There was no money in the Kothar. On top of all this, the opponents uttered discouraging words. Yet they never flinched from their determination. The opponents would decry, "How can these fellows build a temple? At best they will only put up a Thakordwar (small shrine) here." Despite such derisive utterances these sadhus kept courage. They laboured hard, day and night, constructing the temple and at times, without enough food to eat. Still these sadhus were always contented because of their staunch faith in the Akshar-Purushottam doctrine and unbounded love for Swamishri.
After sometime Swami Jnanjivandas, the austere and detached saint of the mandal (group) of Swami Krishnacharandasji of Junagadh, and other sadhus of that group proceeded from Junagadh to Bochasan at the inspiration of Shri Krishnaji Ada. While leaving Junagadh Swami Jnanjivandasji brought from the bhandar (store) his very dear idol of Harikrishna Maharaj, which was worshipped by Gunatitanand Swami, the incarnation of eternal Akshar. From Junagadh they first went to Rajkot and stayed at the house of Ada. Ada called Shastriji Maharaj to Rajkot. Therefore, Swamishri also arrived in Rajkot. The sadhus became immensely happy to have Swamishri's darshan. Then all the saints left for Sarangpur with him.