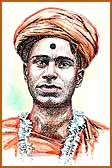 Yogiji Maharaj was absolutely without any desire. Though he was young, he never wanted anything for himself. All day long he would remain engaged in spiritual discourses, singing bhajans, memorizing scriptures and serving others.
Once, Yogiji Maharaj was with a group of sadhus in Bhavnagar. They were staying at the house of a staunch devotee. This house was situated on a main road. It was evening and Yogiji Maharaj was on the upper floor of the house reading the Swamini Vatu.
Down below, people were eagerly awaiting the king's wedding procession. The procession was to pass along the main road. Both sides of the road were crowded with onlookers. Windows and balconies were also full of eager spectators. From a distance, its drums and clarinets could be heard.
Suddenly, a devotee got up and approached Yogiji Maharaj and said, "Come on, why are you seated here? The king's wedding procession is here. It is worth seeing. Come to the window – don't you want to see it?"
Whereupon Yogiji Maharaj replied, "Of what consequence is it for us sadhus? Of what use is it for us to see such things? Once we have renounced something, why let it re-enter our heart?" The devotee was amazed by his reply and spirit of renunciation. He bowed down at the feet of Yogiji Maharaj.
Due to this spirit of service and other saintly virtues the veteran sadhu, Narayandas Swami of Junagadh, thrice sent the message, "Gnanji Swami, if you return to Junagadh, I will myself come down to Jetpur from Junagadh to welcome you, and bring you here in a grand procession." But Gnanji Swami stayed with Shastriji Maharaj to help him accomplish many noble tasks.
In Rajkot, Yogiji Maharaj unintentionally made a small mistake. Vignandas Swami became very angry and ordered Yogiji Maharaj to leave his unfinished meal as punishment. Hargovind Mehta of Vadhwan witnessed this scene, and in the afternoon privately asked Yogiji Maharaj, "Yogi! Why do you tolerate so much? Don't you feel like leaving here and going home?" Yogiji Maharaj replied happily, "When the guru scolds it is for our good. Without punishment we would not remain alert. It helps us to correct our mistakes."
Hargovindbhai was amazed at his reply and fell at the feet of the young sadhu in recognition of his patience and humility.