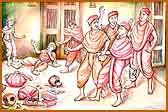 Now Yogiji Maharaj was known to belong to Shastriji Maharaj's group. While touring the villages with the sadhus, Yogiji Maharaj arrived in the village of Keriya. They stayed in the village mandir. Some resentful sadhus, who were not on friendly terms with Shastriji Maharaj, heard that the sadhus of Shastriji Maharaj had put up in the mandir.
It was afternoon and, except for Yogiji Maharaj who was fasting that day, all the sadhus were having an afternoon nap. Meanwhile, the resentful sadhus came to the mandir. At once, they flung the clothes and other belongings of Shastriji Maharaj's sadhus out of the mandir and broke their water pots.
They saw that Yogiji Maharaj was the youngest, so they caught hold of him and pushed him out of the mandir. "Call your Gunatit, and see if he can save you," they shouted, and then banged the blind sadhu Bhagwatswarupdasji against the grills.
Another sadhu was violently pushed aside into a corner. Others were beaten severely, while Vignandas Swami was locked up behind the grills.
The villagers came to know about the sudden unrest. They hurried to the mandir with sticks in their hands. They threatened the intruders, and peace was quickly restored.
Though the sadhus opposing Akshar Purushottam had beaten and insulted them, Yogiji Maharaj and his fellow sadhus did not utter even a single word against them. They met the assault with a smile on their face. Their humility and saintliness was admirable.