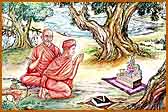 Once Yogiji Maharaj and Nirgundas Swami were going to Gadhada from Sarangpur by bullock-cart. It was a hot summer's day, and the road was deserted. There were neither any wells nor rivers on the route. It was already four o'clock in the afternoon.
Yogiji Maharaj had the small metallic murti of Harikrishna Maharaj (the murti of Shriji Maharaj formerly worshipped by Gunatitanand Swami). The time to offer water to Harikrishna Maharaj was fast approaching but as there was no water anywhere Yogiji Maharaj became worried and upset. "Thakorji must be very thirsty. Harikrishna Maharaj's throat must be dry due to thirst," he thought to himself.
It was six in the evening when they came to a river. Yogiji Maharaj asked the cart-driver to stop by the riverside. He took the murti of Harikrishna Maharaj, bathed it in the river and offered it filtered water to drink. Yogiji Maharaj was still not fully satisfied. He prostrated and prayed repeatedly before the murti, "O Maharaj! Please forgive me. I am at fault. Today, I have failed to give you water on time. Please forgive me." On hearing this, Nirgundas Swami, who was standing nearby said, "What is your fault? We were travelling and couldn't find any water on the way, and so we were late."
Still, Yogiji Maharaj kept bowing to the murti repeatedly and prayed for forgiveness.
Words fail to describe the full measure of his service, devotion and humility.