Swami-Shriji Accepts Offerings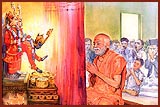 Jaljhilani Ekadashi was being celebrated at Sarangpur. Shastriji Maharaj was feeling unwell and was resting in bed. Some devotees from Bhavnagar had come there for the celebration. Afterwards, Kuberbhai, a leading devotee of Bhavnagar, requested Shastriji Maharaj, "Swami, please come to Bhavnagar so that we may all benefit by your association."
Shastriji Maharaj replied, smiling, "I am not well. Take Yogiji Maharaj in my place. I am included in Yogiji Maharaj." They were pleased with these words of Shastriji Maharaj, and returned to Bhavnagar along with Yogiji Maharaj.
Prabhudas Sheth invited Yogiji Maharaj and the other sadhus for lunch at his house. A pious Brahmin prepared a meal of ladoo, dal, rice, vegetables, etc. When the meal was ready, Jayantibhai, along with Prabhudas Sheth, approached Yogiji Maharaj and requested, "Yogiji Maharaj! You have won the favour of Shriji Maharaj and Gunatitanand Swami. Today pray to them on our behalf to accept the thal."
Yogiji Maharaj smiled and answered, "Let us go and pray. Shriji Maharaj and Swami will surely come to accept the thal." So saying, Yogiji Maharaj entered the prayer room. The thal was placed before the murtis. Silver cups full of water were also placed near the murtis. The curtains were then drawn. Yogiji Maharaj sat there and all around him sat the devotees. Yogiji Maharaj started singing, "Avinashi avo re..." with profound devotion.
After half-an-hour, when the curtains were opened, they gasped with wonder at what had happened. Five ladoos, dal and some rice had been accepted by Maharaj. The water cup was also half empty. All the devotees were struck by the power and devotion of Yogiji Maharaj. They were convinced that Yogiji Maharaj enjoyed the favour of Swami and Shriji.