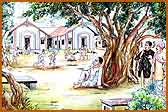 At two o'clock in the afternoon there was a 30 minute recess for the class. During this time the students played games like kho-kho, hide and seek, chase and catch, and amli-pipli. Jinabhai was not interested in playing games. He preferred to spend his time in prayer. So, while his friends and other children played games, Jinabhai prayed to God in a quiet corner or under a tree.
The boys often wondered, "What is Jina doing?" The teachers, too, would ask his friends, "What does Jina do while others play?"
One day, two teachers saw Jina while he was meditating under a tree and asked, "Jina, you don't play any games. You meditate on God all day. You are not interested in the affairs of this world, so why don't you become a sadhu?"
"Yes, I will become a sadhu," replied a determined Jina. So saying, he resumed his prayers. How could the teachers of Jinabhai know at the time that Jinabhai would really become a sadhu and become famous throughout the world.
Jinabhai did not like to waste his free time. He only liked to offer worship. We, too, should not waste time and should offer devotion to God.