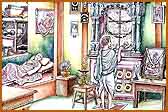 For many years Jinabhai's uncle, Mohanbhai, had been performing the daily worship and service of the murtis in the mandir at Dhari. But due to old age and ill health, he could no longer look after the mandir properly. He thought, "It would be nice if some good devotee could be found to perform this service." His eyes fell on Jinabhai.
He asked Jinabhai if he would take up the mandir duties. Jinabhai was overjoyed, and assured him, "Mohankaka, do not worry, I will serve Thakorji."
From that day Jinabhai assumed the mandir responsibilities, and engaged himself in the service of God. He would bathe the murtis lovingly, apply sandalwood paste and a kumkum chandlo, light the divo and incense sticks and perform the arti. His heart overflowed with joy while offering devotion to God.
Besides all this, he would draw water from the well and water the plants in the compound of the mandir. Within a short time the garden in the mandir was filled with the sweet fragrance of flowers. Every morning Jinabhai made garlands of flowers of various colours for the murtis. He would prepare a variety of delicacies to offer to God. He would serve the murtis as if God himself was physically present. Quite often, he even conversed with the murti.
In the mornings and evenings, he would bring his friends to the mandir. There, he taught them how to chant the 'Swaminarayan' mantra. He used to sing bhajans and asked others to sing with him. He taught them how to perform arti and also how to prostrate before the murtis. Before they left he would give them prasad.