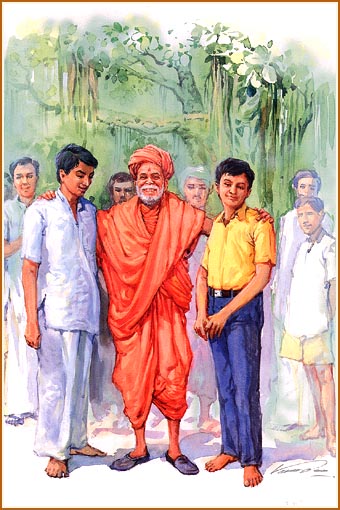 25. Youths And Yogiraj

Soon, Yogiji Maharaj captured the hearts of the college youths and established the youth forum (Yuvak Mandal). He also initiated the Sunday Satsang discourse and children's forum (Bal Mandal) and engaged them in various Satsang activities. On his 70th birthday celebration in Gadhada in 1961 he initiated 51 youths into the saffron order. He established mandirs in Bombay, Ahmedabad and Bhadra.
Yogiji Maharaj visited East Africa for the first time in 1955 and opened a huge mandir in Mombasa. In 1960 he established mandirs in Kampala, Jinja and Tororo. And in 1970 he consecrated the murtis of Akshar and Purushottam in Nairobi. He also visited London in 1970 and opened a mandir and thus fostered Satsang in the U.K. Through his blessings four sadhus visited the USA to inspire and consolidate Satsang.
Yogiji Maharaj thus pioneered the establishment of the Yuvak Mandal, Bal Mandal, Sunday Satsang assembly and mandirs in East Africa and England.