No Secession from the Temple and the Satsang: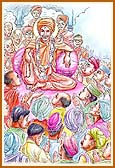 The haribhaktas devoted to Swamishri were now cautioned. They all met to consider what to do. They decided unanimously to demand for Swamishri's mandal (group of sadhus) to complete the construction of the temple in Rundel. Accordingly they approached Kothari Gordhanbhai. The latter sent them to Acharya Maharaj. They were thus driven from pillar to post four times, but no definite reply could be obtained. Finally Gordhanbhai advised them, ''Press your demand firmly before the Acharya, and it is my earnest advice to you not to go away this time leaving the Shastri here."
On hearing these words they all felt that their apprehension was true, and that it was not safe to keep Swamishri in Vadtal. Hence they decided to leave Vadtal with Swamishri. They informed Swamishri about this, but he was adamant. He firmly replied, "No matter if I have to die here but do not talk about seceding from this place. And Bhagatji Maharaj has promised me that even if I am cut into pieces, he will sew me together again, but I should not leave Vadtal." The devotees were baffled to hear these words from Swamishri.
Shri Krishnaji Ada arrived on the morning of the full-moon day and heard the news. He discussed the matter with Swamishri in a secluded place. Swamishri related to him also what Bhagatji Maharaj had told him. Adashri then said, "What you say is true, but Shriji Maharaj has instructed us in the Shikshapatri to act in accordance with the place and time, hence, you should not stay here at all."
Swamishri began to ponder over the words of Adashri. He thought: "When such a favourite of Gunatitanand Swami and mukta (liberated soul) of Akshardham (the divine abode) advises like this, it seems Maharaj too wants it this way." Then with folded hands he replied to Adashri: "I consider that Bhagatji Maharaj himself has spoken through you. I shall, therefore, abide by your wishes." Krishnaji Ada was pleased to hear this and he blessed Swamishri. The devotees also heaved a sigh of relief.
After the congregation was over, the votaries devoted to Swamishri approached Acharya Maharaj and requested him to send Swamishri's mandal to Bochasan. Acharya Laxmiprasadji, however, angrily replied: "Who is going to give him permission? He has an open field in the whole country. Let him go anywhere he likes." The disciples were deeply pained to hear such harsh words. They all felt that Swamishri should leave the place. They went to Swamishri and told him of the reply.
Swamishri thought for a while and said, "We do not want to secede from the temple and the satsang (fellowship), but if Maharaj so wishes, perhaps we may have to leave." Then he instructed Purushottamdas Swami to stay there and said: "If you get an order from the Acharya for our mandal, come with it, if you don't get it, then come without it and meet us."