Ajatshatru: Man without an Enemy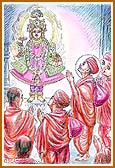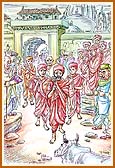 Swamishri knew that such circumstances would arise only in accordance with the will of Shriji Maharaj. This trouble arose because he performed the function of propagating the true upasana of Akshar-Purushottam. Hence, he did not feel sad about it. The only thing which, however, pained him was that even in such a consecrated and divine place of Shriji Maharaj, it was not permissible to discuss the doctrine of the true upasana of Shriji Maharaj.
Swamishri, along with five other saints, stood before the idol of Harikrishna Maharaj in the temple and prayed to Him: "Oh Maharaj, we have no desire at all to depart from here, but if it is your will that we should separate, then do protect us and always remain with us."
With five saints and nearly a hundred and fifty devotees, Swamishri left the temple from Hanumanji's gate. Vadtal was forlorn with the departure of such a great saint by whom it was embellished!
On the way to the Gomti lake, Kishorebhai, a policeman, met them. When he came to know that Swamishri was forced to leave Vadtal, he rushed to the temple, and failing to find him there he proceeded in search of him in this direction. On seeing Swamishri he bowed to him and requested him: "Swami! Please give me the names of the mischief-mongers. I shall arrest them and lock them up in the Nadiad jail."
Swamishri replied : "We do not want to do any such thing. We must promote the satsang by even suffering insults and by living in accordance with the duties enjoined to the sadhus."
Kishorbhai was deeply impressed by the saintliness of Swamishri. He brought a bullock cart for him and requested him to travel in it. Seeing his love, Swamishri agreed to accept his request. As news spread in Vadtal, the devotees flocked with garlands to see him off. Within a short time a heap of garlands was collected.
Then Swamishri proceeded further. On seeing a cow coming from the opposite direction, Swamishri said: "This is a good omen." Bidding farewell to all those who had gathered there, Swamishri said: "Please continue giving donations in Vadtal to Thakorji (the deity), offering rasoi (food), and observing Poonam (a visit on the full-moon day for the darshan of Thakorji), etc. The temple and Thakorji are ours; we are not seceding from them."
Swamishri reached Karamsad and from there he went to Bochasan. There were only five sadhus with him but they were all valiant, prepared to lay their heads for his sake. They did not care for physical pleasures, nor for honours or insults. All of them had undergone a number of difficulties for the sake of Swamishri. Hot oven-ash had been thrown on the heads of some, while pokers had been pierced into the bodies of others. They had not, however, complained to anyone nor did they feel subdued thereby. They did not even quarrel with anyone. They simply tolerated. Swamishri's work achieved tremendous progress with the whole-hearted co-operation of such dedicated saints.