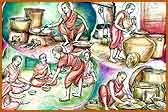 Yogiji Maharaj, though young excelled in service. From early morning to late at night, he remained busy in the service of others. He never tired. In fact, he never felt at ease in the absence of seva. Even during fasts he would serve others with the same enthusiasm and love.
Each day he would get up early in the morning, then after bathing and prayers, he would start cooking in the kitchen. He would cook 300 rotlas. He prepared and cooked the rotlas simultaneously on two separate hot-plates. Whilst cooking, Yogiji Maharaj would sing bhajans and recite Swamini Vatu. He used to cook everything by himself no matter how many people there were.
When the food was ready, he would call everybody to eat by hailing, 'Vasudev Hare'. He himself served the food to all the sadhus and devotees. He was always the last to have his meal.
He also drew water from the well that would be required for cooking and for bathing by the sadhus and devotees. Everyday, early in the morning, he rinsed out all the big pots and vessels, and filled them with filtered drinking water.
Even after all this seva, he would also wash the utensils after the meals were over. Many times he would be found cleaning the huge pots till late at night.
Yogiji Maharaj was an ideal of seva.