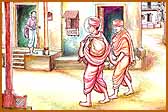 The sadhus visited village after village to teach the philosophy of Akshar Purushottam and a purer way of life. They cared not whether it was day or night. Wherever they went, they collected flour and cooked their meals from whatever they managed to get.
Once the sadhus had halted at a village called Sankarda. Every morning, they would go round the village to beg for alms. Yogiji Maharaj, accompanied by the blind sadhu, Bhagwatswarupdasji, would also go around to beg for alms. Holding one of his hands, he would lead Bhagwatswarupdasji along the road. A cloth bag for collecting the alms hung from Yogiji Maharaj's shoulder. When anybody offered flour, grains, etc. he would empty it into the bag with the other hand. As he walked, he took great care that no stones, thorns or holes in the road got in the way of Bhagwatswarupdasji. After the morning round was over, he cooked whatever alms they had received. He first devoutly offered the food to God. Then, after serving the other sadhus, he would finally sit down to have his meal.
Karsansang Bapu of Adval often saw Yogiji Maharaj leading the blind and aged Bhagwatswarup-dasji while going round for alms. One day, he saw the barefooted Yogiji Maharaj begging for alms in the scorching heat of summer. He felt pity for him. He asked, "Yogiji Maharaj, why don't you take a younger sadhu with you? How difficult it must be to be with such an aged sadhu while begging for alms!" Yogiji Maharaj, with a smiling face, replied, "Bapu, it is my good fortune to have such an aged sadhu with me. I am extremely fortunate for the opportunity to serve a revered old sadhu! Also, by moving about with him I get the benefit of his vast knowledge and experience. And, I also get a chance to serve the mandir by carrying the alms." Karsansang Bapu heard these words of Yogiji Maharaj and mentally bowed to him with great respect.
Once, Yogiji Maharaj went to Narayan Dharo from the village of Mojidad, to bathe. There, a sadhu named Narayanprasad, wild with resent and envy, insulted and abused Yogiji Maharaj. Yogiji Maharaj merely smiled and chanted 'Maharaj...Swami', and after finishing his bath quietly returned to his residence without uttering a word in retaliation.
Some time later, when the monsoon had set in, this same sadhu, Narayanprasad, alighted from a train at Botad railway station at two o'clock in the morning. The cart driver refused to take him to Kariyani. Walking wearily along the muddy road, he came to the Akshar Purushottam Mandir at Sarangpur and knocked on the door. A thorn had lodged deep into his foot. Thus his foot was swollen, and he was in extreme agony. The watchman came and informed, "Yogiji Maharaj, a sadhu has come and wishes to stay for the night."
Yogiji Maharaj went to receive him and brought him inside with courtesy. He then removed the thorn from his foot and dressed the wound. He lovingly fed him prasad of puri and ladoo. He made a bed for him, and gently asked him to rest. In the morning he kept a cart ready to take Narayanprasad to Kariyani. Narayanprasad recognized Yogiji Maharaj as the very sadhu he had insulted a few weeks before. He underwent a complete change of heart and thought, "Yogiji has served me with love even though I had insulted him. He has not said one word of rebuke to me. He has won me over completely with his great affection."
Narayanprasad repented, fell at the feet of Yogiji Maharaj, and said, "You are a humble and loving sadhu because you do good to those who have harmed you. You are an ideal paramhansa of Shriji Maharaj, who repays animosity with love and affection." Then receiving the blessings of Yogiji Maharaj, Narayanprasad left for Kariyani by cart.