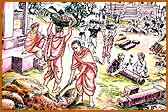 Yogiji Maharaj enjoyed serving Thakorji and the mandir as much as he liked to serve the sadhus and devotees. When engaged in such seva, he would forget hunger and fatigue. He sincerely obeyed all the commands of Shastriji Maharaj. He served him and helped him in all his work.
Shastriji Maharaj built his first mandir in Bochasan, and consecrated the murtis of Akshar and Purushottam in the central shrine. After some time he also started building a mandir in Sarangpur. The work was in progress, but due to lack of funds, the sadhus and the devotees also helped in the construction of the mandir.
Yogiji Maharaj, too, after completing all his normal duties used to help in the construction work of the mandir. He carried large stones on his head for the masons to lay. He mixed lime and sand with a spade, and supplied the mixture. He assisted in digging and filling in the foundation. He was the youngest in age, but in service, he excelled everyone.
He had only one thought, "A mandir will be built, and the murtis of Akshar and Purushottam will be consecrated. How can one ever get such an opportunity to serve Maharaj! So, seize the opportunity and serve as much as possible, so that God is pleased."
Shastriji Maharaj was much pleased with Yogiji Maharaj's sincere service and loving nature. He frequently praised and blessed Yogiji Maharaj.